Software and components designed

for integration into medical systems
GrowthXP, an efficient and complete
tool to monitor growth from infancy to adulthood.
GrowthXP is aimed to support health care providers such as pediatrician private practice, well-baby clinics, nutritionists, US National WIC Program, lactation centers, pediatric hospitals and endocrinologists in evaluating children growth, as well as to help make timely treatment decisions.
It offers many features to make the best use of growth data such as:
High-resolution growth charts
Instant calculations and validation checks
Chart design and reference data – 5 000 data sets - that follow each country's local standards
Complete auxological data, complete pubertal data, bone age and adult height predictions, visit list for viewing historical data and many more.
GrowthXP also allows automatic graph redrawing at any update and offers very similar to printed versions of high-resolution charts.
GrowthXP can easily be integrated into medical records or into various systems including web solutions. Our web module features several data connectors, FHIR being one of them, making our solutions compatible with all major systems on the market. Currently, 15 national versions of the module are used all over the world, among them USA, WHO, UK, Canada, Germany, France, Belgium, Sweden, Switzerland, Norway, Denmark, Iceland, Colombia, and more …
Besides helping you monitoring growth, using computerized growth charts will help you save time and solve storage issues and above all will ensure absolute patients confidentiality.
Download a free trial at GrowthXP.com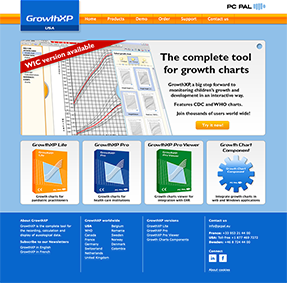 More at www.growthcharts.info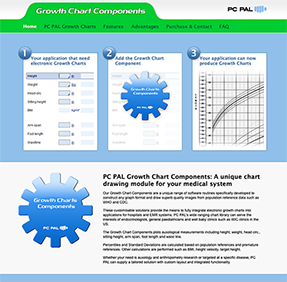 PedigreeXP is an intuitive and
unique pedigree charting software.
It improves the recording and interpretation of pedigree data which reveal important genetic, cultural, behavioral and environmental factors in health throughout an individual's life time.
PedigreeXP is aimed to support clinical geneticists, genetic counselor, genetic consultant, oncologists, organ specialists and all specialists working on genetics.
Quick and easy, PedigreeXP offers a wide range of features to conduct pedigree analyses such as:
Quick Start Wizard – a unique feature among all pedigree chart drawing providers - allows you to create a pedigree chart with just a few clicks
Instantaneous Pedigree layout auto-arranging
Complex family pedigree management
Colors or shades customization to denote different diseases
Also available as a module for integration into medical records.
PedigreeXP advantages:
Data interpretation is more efficient
Information sharing between doctors is easier
Answers to the trend in data dematerialization encouraged in the medical sector
PedigreeXP conforms to the Pedigree Standardization Work Group recommendations.
Get a free trial at PedigreeXP.com | And check out the PedigreeXP features described here.
PC PAL has built major registry platforms for pediatric and adult endocrinology (growth hormone), with a single system managing more than 100 000 patients
In parallel, other successful patient registries have been deployed (acromegaly, ophthalmics, diabetes). Rare disease registries have been a perfect match, needing multiple medical aspects coverage for complex patient contexts and long term follow up.
PC PAL's Application Framework is a common framework of reusable code, especially developed for registries. It allows intelligent reuse of basic functionality, allowing custom development when needed.
PC PAL's solutions for Patient Registries are successful because they are customized to match the exact needs of both clinics and sponsors, based upon true experience in the field.
RegiDiab, a management and monitoring for diabetic children, is one of the registries developed by PC PAL
Its functionality is tailored to the pediatric endocrine specialist's needs in that field. It allows caregivers to obtain for each patient, through a real-time capture of various clinical, biological and therapeutic data, a thorough monitoring and analysis of this data using for instance graphs and average calculations. This data refers to the balance of the disease, insulin requirements and the height-weight and pubertal development of the patients, as well as information on other problems associated with diabetes (acute and chronic complications, skin problems, psychosocial data).
This data can be analyzed on the cohort of patients from one clinical center or from a group of clinical centers using the same tool.
Allowing the registration of new cases and the follow-up of cohorts, it is thereby a very useful tool for creating a registry of the disease. This registry can cover patients on local, regional or national level. It can even, through automatic and real-time generation of statistics and multiple analyzes, allow quality scientific work on a large number of patients, which is the main reason of having a registry.
This ability to facilitate the creation of a registry for diabetes specialists, while being a day-by-day tool for caregivers, is an undeniable advantage of this application.

Contact us at sales@pcpal.eu for more information
More product brochures
Other marketing stuff