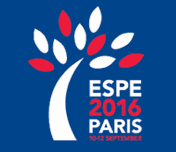 We will be present at the ESPE conference, September 10-12, in Paris, France.

We look forward to presenting our high-quality electronic growth chart solutions to children's growth and development specialists.
The theme of this year will be "Horizons in Paediatric Endocrinology" with a focus on the new challenges for Paediatric Endrocrinology.

Come and visit us on booth #3, 2nd floor.
"Our experts will be delighted to present you GrowthXP outstanding benefits to accompany your teams in facing those challenges", declares Laurent Rossaert, Sales and Marketing Director.